Gas detection system
Hydrogen sulfide is a challenge in the oil and gas industry because of the its high concentration found upon drilling, testing, workover and production operations.
We are professionals in the early detection of the most common toxic and explosive gases. In other words, the substances being encountered at hazardous facilities in the oil and gas industry, including H2S, SO2, CO, CO2 and CH4. Our advanced systems provide early gas detection, public address and data collection by recording on all specific devices.
When working in a toxic chemical environment, the use of gas detection systems is a vital precaution. This equipment is focused on early warning of low gas concentrations in the air. It allows site personnel to response immediately and leave the hazardous area before the concentration of the substance turns lethal.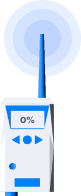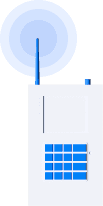 QHSE-Akbarys gas detection system includes 3 types of solutions:
Stationary wireless gas detection systems
Portable multi-gas analyzers
Personal gas analyzers
When dealing with extreme gas concentrations or in harsh environment with low oxygen levels, sampling pumps with tubes for a wide range of toxic substances can be used.